Shade Sails for Ormeau
Driveway Shade Sails are a great way to improve your new home in Pimpama, Coomera, Ormeau, Jacobs Well and other Gold Coast suburbs.
There are several ways to use Shade Sails to improve the quality – and even usable space – of your new home. First, a driveway Shade Sail can provide additional covered parking space. This option can be used to either provide extra car parking or even free up the garage to give you an extra room. Our Gold Coast Shade Sails can enhance your property at a fraction of the costs involved with traditional buildings.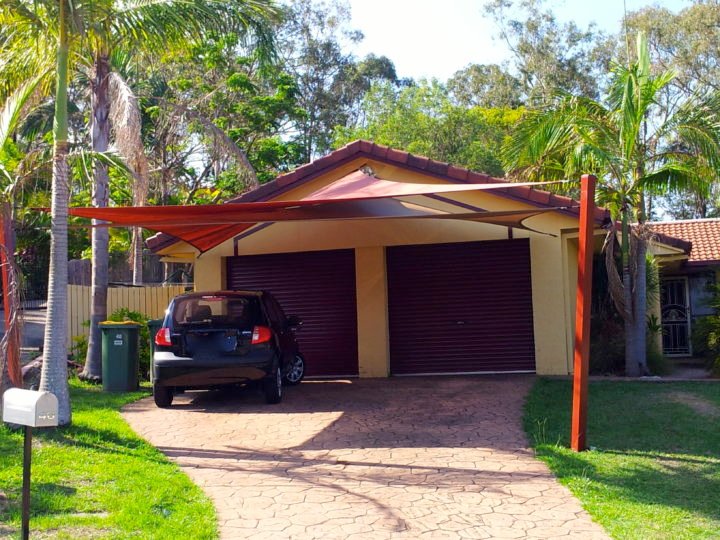 New homes in Pimpama, Coomera, Ormeau, Jacobs Well etc can also benefit from the preventative maintenance aspects of our Gold Coast Shade Sails. A driveway Shade Sail will protect your driveway from deterioration, saving you costs in the long run. Sailworx offers several options for fabric choice, all of which block in excess of 90% of UV light. There are several options for the design of your Shade sails, including just a single Shade Sail or multiple shade sails, and whether you use triangular or rectangular Shade Sails or a mixture of both. We can also advise you on whether to go with one single colour or a mixture of colours that match perfectly.
Our driveway Shade sails are specially mounted to withstand wind speeds up to 100 kilometres per hour. We have over 20 years experience in installing Gold Coast Shade sails, including the Shade Sails at Seaworld.
Another great way to improve your property with our Pimpama Shade Sails is to use them to create an outdoor eating area, which has the advantage of being outside but also being sheltered; in fact, many cafes take advantage of this. Compared to permanent structures, Pimpama shade sails are a very cost-effective alternative.
When looking at your new home, there may be particular areas where exposure to the sun is particularly severe and the area can get particularly hot. Talk to Tony about how our Coomera Shade Sails can help you make these areas more usable, and potentially reduce your Power costs from the shade they provide not only on the outside but on the adjacent inside areas. Our Coomera Shade Sails can reduce the outside area by around 10° but there is also a corresponding benefit to the inside area also. In fact, if you use Shade Sails to create a patio along one side of the house catches the sun, there may be significant power savings.
However, our Ormeau Shade Sails do need to be professionally installed. We make sure they are tight and secure and we provide a follow-up Re-Tensioning service, making sure that you get maximum benefits in usage, durability and safety. Proper installation also provides the maximum protection against the elements. We can provide advice on different options for installing your Ormeau Shade sails, based on 20 years of experience. We can also help you with colours and design that complements your existing property.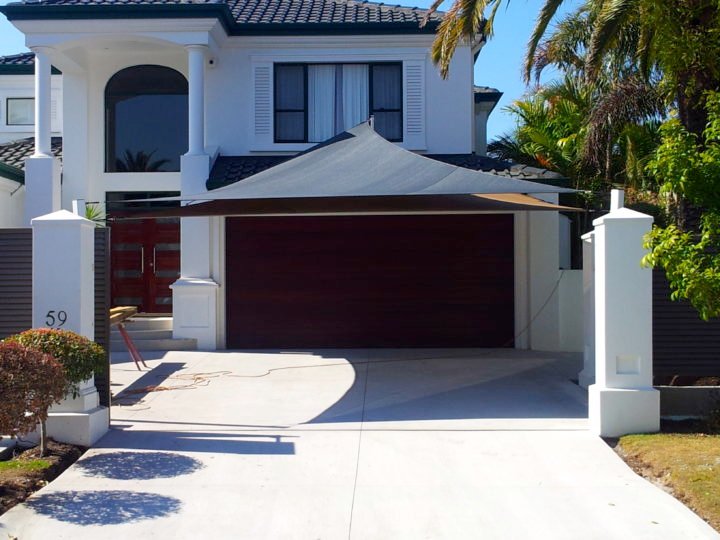 If you have a pool, our Ormeau Shade Sails not only provide a protected swimming area against the harsh Australian sun, it can also assist in keeping your pool clean.
As you can see, our Gold Coast Shade Sails are a very quick and cost-effective way to improve the value of your existing home. With 20 years experience in Gold Coast Shade Sails, we can help you get the maximum increase in the value of your home or business at a most affordable price.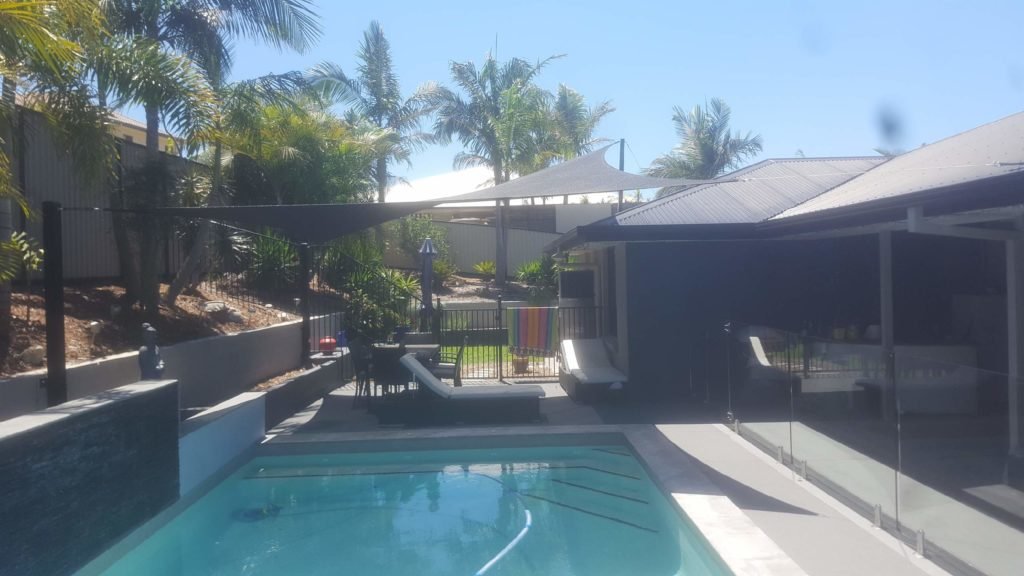 Driveway Shade Sails can be used in a variety of ways and situations. If you have a space problem or merely want to improve the value and functionality of your home, ring us and we can come up with a solution for you!
Seaworld and Bunnings are among our many satisfied clients – are you ready to join them? Ring Tony on 0417 144 582 for a Free Quote on your Shade Sails for Pimpama, Coomera, Ormeau, Jacobs Well and other Gold Coast suburbs.